28 Aug

Fishers of Men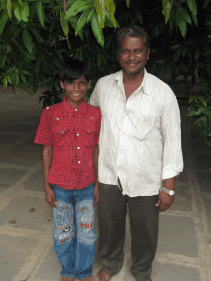 Harvest India first encountered Srinu 2 years ago when he brought Raj Kumar, a small child from his village, to the Harvest India children home in Tenali. Raj Kumar, then 10 years old, was left orphaned after the death of his mother and no one in his family could take care of him. Srinu had heard about Harvest India and the care we freely give to children in need. Harvest India gladly accepted Raj Kumar and sporadically over the next year Srinu would drop in to visit him. During one visit Bishop Suresh inquired about Srinu's relation to the boy. He shared that there was no direct tie. He formerly had a small fishing business, small boat and a staff of about 10. When the tsunami hit in 2004 he lost everything and was left bankrupt. He watched men and women in coastal villages struggle for survival and noticed many children were left orphaned by the storm. When Raj Kumar was left orphaned in his village he felt that he was obligated to do something. Due to his financial crisis he vowed to see that the boy find a good home. After visiting us he became certain that Harvest India could provide for the future Raj Kumar needed and Harvest India has been taking wonderful care of him ever since. As he departed that day Suresh prayed over Srinu. He was a Hindu man but was willing to receive prayer that day. Suresh prayed abundant blessings over Srinu and sealed the blessing prayer in the powerful name of Jesus. After the prayer he left the campus. A few weeks later Srinu returned to Harvest India's campus. With a bag in tow and a huge smile on his face he approached the home of Suresh and Christina. He proceeded to share about his recent fishing trip.
He recalls, "Just weeks after Bishop Suresh prayed for abundant blessings in my life I inquired about hiring a small boat and taking a crew out for a deep sea trip. When we cast the nets they immediately filled with fish. Again we cast them and the boat became heavy with fish. The single fishing trip provided enough fish, which we sold for enough money to completely re-establish my fishing business. I knew that day that Jesus was Lord and I surrendered my life to Christ."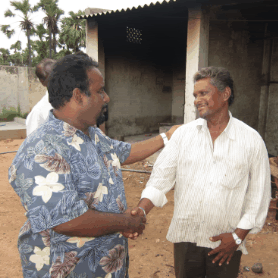 He had returned to the Harvest India campus to bring the best of his catch as an offering to God's work through Harvest India. He has visited several times over the last year, often coming for prayer before his fishing trips and bringing fish from his trips after they have concluded. He's been sharing about how God is good in his life. His business is growing again and the Lord is blessing him one hundred fold more than ever before. Last month he caught word that Christina's birthday was approaching. He vowed to freely give 500 fish as a gift to Harvest India. His desire was that every child in Raj Kumar's children home would have a fresh, hot fish lunch to celebrate this joyous day. Today, on Christina's birthday, he kept his promise and arrived early this morning with over 135 pounds of fish (over 500 fish) to give to the children at Harvest India. Every child in our children home in Tenali was served their own fish today for lunch, marking the first time ever we have been able to give such a lavish treat! It was a beautiful day, a beautiful picture of God's blessing through prayer and a beautiful way for a former Hindu man to boldly and faithfully declare his love for Christ through his heart for God's children.