07 Feb

Testimonies of a Village Woman

In a village church in Bhattiprolu, Andhra Pradesh emerges a story that shows the unique abilities that Harvest India continues to utilize in standing behind the lives of thousands. While much of our ministry is to the downtrodden and neglected, Harvest India has growing opportunities to provide jobs to youth and middle aged nationals who are rising into a place of dignity and hope and making change possible for their families and their lives. On a recent trip to Bhattiprolu, a village where Harvest India supports a local church, runs a satellite bible college and educates 850+ women at K.S.K. Intermediate and Degree College, we gathered to join the local church in Sunday Service. At the beginning of each Sunday Service the congregation in Bhattiprolu gathers to worship God and hear His word through teaching. After worship, the congregation has some time to share praises for the ways God has met their needs and answered their prayers in the week past. During this time of sharing we met Vijaya Kumari. Vijay Kumari is a woman in her early 30's who has been a member of the church in Bhattiprolu for as long as she can remember. Her mother, Sujatha, became a believer when she was 6, after visiting Sunday school with some of her Christian friends. She accepted Jesus into her heart and became the first Christian in her family. When her marriage was arranged, her parents insisted that she wed a Hindu man and shortly after her wedding Sujath became pregnant with Vijaya Kumari. When Vijaya Kumari was born her mother dedicated her to the Lord and began teaching her and instructing her in the ways of righteous living. As the time drew near for Vijaya Kumari to wed she was also betrothed to a Hindu man at the demand of her Hindu father.
Vijay Kumari and her husband bore two children, Santosh 8 and Naveena 11. Her husband worked hard as a mason, making barely enough to provide the basic necessities for the family. There was food on the table and enough money to educate their children with occasional excess income for some other needs. Everything seemed to be going as well as could be expected for a Christian woman and a strong Hindu man with two children struggling financially in rural India. Then in April of 2011 Vijaya Kumai's husband became possessed by an evil spirit. This tormenting spirit made it difficult for him to work which tightened the family's already small budget and caused even greater hardship in the home. Twice Vijaya Kumai's husband attempted suicide, once jumping off of a building and another time overdosing on medication. Both attempts were unsuccessful and caused only high priced hospital bills. She encouraged him to come to church and receive prayer but he refused. Then after two months of severe financial struggle and no luck in his suicide attempts, Vijaya Kumari's husband abandoned her and her two children in the night and has not returned for 6 months. Vijay Kumari struggled to get the family's finances to a level that could continue to provide for her children's education and provide for their needs. She looked to her parents, but her father refused to help because of Hindu beliefs that when hardships fall upon you it is a cursing of the gods and if another interferes with the gods plans it will likely bring hardships upon your own household. Her mother and Vijaya Kumari sought the prayer of the church. Sujatha knew of an opportunity at K.S.K. College that has recently opened up as a grounds keeper for the school, where she also works. Sujatha approached Suresh and shared her daughter's hardship with him. He generously granted trial employment at the college run by Harvest India to Vijaya Kumari, since she had no prior experience. It has been one month since Vijaya Kumari began working at K.S.K. College. Her position has become permanent and she is doing a wonderful job maintaining the grounds.
As she shared, through tears of thankfulness and the heartbreak of her husband's abandonment, Vijaya Kumari is finding healing in Jesus as she works at her new job, gathers with her family of believers, and prays steadfast prayers for her husband to submit his life to Jesus and return to their family. She praised God for the ways He turns our sadness into laughter and our struggles into times of great celebration as we grow in faith and deepen our understanding of the great plans God has for us.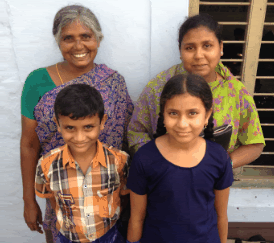 Sujatha, Vijaya Kumari, Santosh and Naveena
2 Kings 6:17 "… O Lord, open his eyes and let him see!…"